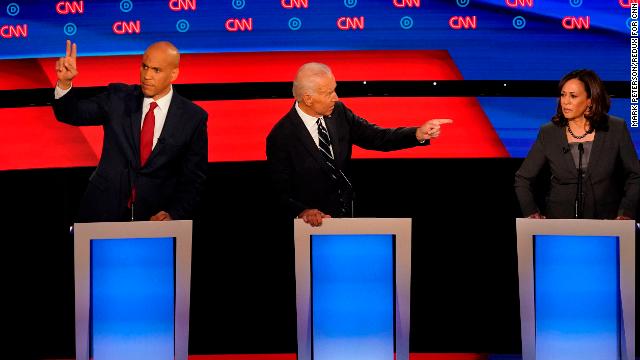 We are now in an era where every major Democratic candidate for the presidency is competing for the boldest plans to fix a failing criminal justice system that tears apart too many families and destroys too many lives.
Democrats have not always stood boldly against the incarceration industry. There was a time when candidates for office up and down the ballot would compete over who could be tougher on crime. But in this election, Democrats are competing to offer more freedom, more compassion, and more rehabilitation – not just more punishment.
On Thursday's debate stage, in response to a question posed by a young African-American moderator, Linsey Davis, a few candidates finally got a moment on the debate stage to highlight their criminal justice plans.
● Sen. Kamala Harris: "My plan has been described by activists as being a bold and comprehensive plan that is about ending mass incarceration, about taking the profit out of the criminal justice system. I plan on shutting down for-profit prisons on day one. It will be about what we need to do to hold law enforcement, including prosecutors, accountable. And finally, my plan is about making sure that, in America's criminal justice system, we de-incarcerate women and children, that we end solitary confinement and that we work on keeping families intact."
● Sen. Cory Booker: "I joined together and led in the United States Senate the only major bipartisan bill to pass under this president, for criminal justice reform, that has already led to thousands of people coming out of jail. If 87 members of the United States Senate says that these sentences are way too long, and we changed it, but we didn't make it retroactive, we could literally point to the people that are in jail unjustly right now. Everyone on this stage should say that we are going to give clemency to these 17,000 people. And I challenge you. Don't just say a big statement; back it up with details of the people in prison right now looking for one of the most sacrosanct ideals of this nation, which is liberty and freedom. We need to reform this system and we must do it now. Every day we wait is too long."
● Joe Biden: "We're in a situation now where there are so many people who are in jail and shouldn't be in jail. The whole means by which this should change is the whole model has to change. We should be talking about rehabilitation. Nobody should be in jail for a nonviolent crime. As — when we were in the White House, we released 36,000 people from the federal prison system. Nobody should be in jail for a drug problem. They should be going directly to a rehabilitation. We build more rehabilitation centers, not prisons.
● Sen. Amy Klobuchar: "As a senator and as your president, I will make sure that we don't just do the First Step Act when it comes to criminal sentencing, that we move to the Second Step Act, which means the 90% of people that are incarcerated in local and state jails, let's reduce those sentences for nonviolent offenders and let's get them jobs and let them vote when they get out of prison"
The tide is certainly changing – I even saw a few Republicans agreeing with what was said on stage. After the passage of last year's First Step Act, which saw close to 100% of Democrats in Congress voting in favor of criminal justice legislation that President Donald Trump signed into law, this issue is ripe for progress.
Seventy million Americans with a criminal conviction, 10 -12 million cycling through jails every year, 4.65 million on probation, parole and community supervision, and 2.2 million behind bars – there are many more steps and much more work to be done.
Van Jones is the host of the "The Van Jones Show" and a CNN political commentator. He is the CEO of the REFORM Alliance.