Europe Can Increasingly Be A Driver For Tesla Sales – Seeking Alpha
The latest figures for sales emphasise the fact that Tesla (NASDAQ:TSLA) is likely to continue to grow exponentially in Europe and Asia. This will happen to EVs in general as ranges increase and prices fall. The prospects for Tesla in the USA are good short term on the back of Model 3 reservations. However, the Trump Administration's anti-environmental approach may have some negative consequences in the medium term. All the major countries in Europe and Asia have signed up for the Paris Climate Accord. The withdrawal of the USA though will probably have a knock-on effect for EV sales there.
EVs – The Big Picture.
There are those in the US who still deny the future potential of EVs (electric vehicles ). Theirs seems to be an argument against the facts. The cautious recent forecast of Bloomberg New Energy Finance illustrates this. They predict that by 2040, EVs will constitute 58% of all auto sales worldwide. This figure was up from a previous estimate of 35%. The figure will be 67% in Europe and 51% in China. They did put in the rider that recent measures by the Trump Administration might slow down the U.S. take-up rate. They may of course be wrong in their prediction, as a prediction is only a prediction.
The report from Bloomberg also estimated that ion battery prices would fall over 70% by 2030. By 2040, EVs will displace 8 million barrels of transport fuel per day and add 5% to global electricity consumption. Numerous other reports agree with this to varying degrees.
Already EV sales are moving forward in Europe and China. Recent figures show a rise of 28% so far this year in Europe. There are many indicators of this. Recent figures for China show that sales of plug-in hybrids and battery electric cars rose by 36% in the first 6 months of the year. This is on the back of Government incentives, Government legislation of air quality and, most importantly, on the fall in battery prices. Lithium-ion cell prices have fallen by 75% since 2010. These falls are expected to continue. Just 6 years ago the average EV battery cost US$1000 per kilowatt hour. Today that figure is under US$350. It is expected to fall in the next few years to US$125.
This demand will necessitate the construction of at least 35 Gigafactories the size of Tesla's Nevada gigafactory by 2030, according to some conservative estimates. Others think the figure will be much more than that. Volkswagen (OTCMKTS:OTCPK:VLKAY) recently stated they saw a need for a further 40 gigafactories by 2025 with the auto industry alone needing 1.5 terawatt-hours by then.
My article in January gave details of the likely surge in Gigafactory construction. This will be lead by EV and battery storage demand in Europe and Asia. A whole host of new battery factories in on the drawing-board in Europe.
Europe-The Big Picture.
Country after country in Europe has set out their targets for EV adoption. Most recently the French Government declared they aimed to have only EV's on the roads by 2040. This means that no gasoline or diesel vehicles will be allowed on the roads as from that date. Older cars will need to be traded in, probably with some form of Government assistance. 50% of the country's electricity is generated from nuclear sources. So EV's in France have an even wider carbon footprint gap with fossil fuel cars than normal.
Germany has a target for 1 million EV's on the road by 2020 and 6 million EV's on the road by 2030. This is thought to be over-ambitious by many. The Netherlands and Norway plan to phase out all fossil fuel autos by 2025.
In Norway EV cynics wrongly suggested that EV sales would fall off a cliff once incentives were scaled back. They were wrong. EV's accounted for 29% of all sales last year. On the roads there are 100,00 EV's in a country of just 5.2 million people. It is expected that by 2020, this proportion will rise to 70%. The Government expects the end of fossil fuel auto sales by 2025.
Charging points for every 50 kilometres of road are being installed. Norway has the advantage of being a relatively small and affluent country with cheap electricity due to its hydropower surplus. This has the added advantage of meaning that there is virtually zero carbon footprint for the country's EV's. Others in Europe are following at their own pace.
In the U.K. take-up of EV's has been slower due to very few Government incentives. However a recent report shows that the take-up rate is suddenly accelerating despite no substantial new Government encouragement. A drop in auto leasing costs, lower running costs and lower servicing costs are all encouraging consumers. A roll-out of lamp-post and workplace charging points has further encouraged buyers. As in Paris, EV car sharing clubs are proving popular. This may be seen as an indication that EV sales are not dependent upon Government incentives.
Figures published by the IEA (International Energy Agency) provide details of Government targets around the world. These figures are for the period 2016 to 2020. They look at the share of EV's as a percentage of total autos. They tell an interesting story. European countries lead the way almost completely.
Austria = 13%
Denmark = 23%
France – 20%
Germany = 6%
Ireland = 8%
Netherlands = 10%
Portugal = 22%
Spain = 3%
United Kingdom = 14%
The pace will be accelerated even more in Europe by the movement away from diesel cars. These have historically been popular. The realisation of the health hazard caused by nitrogen oxide spewing out into the atmosphere is quickening the pace of EV adoption. This is one reason for the sudden increased take-up in the U.K. as a reaction to London's bad air pollution figures. EU regulations on auto vehicle pollution are acting as another driver of EV growth. Carbon dioxide from petrol engines currently cannot exceed 130g per kilogram. This is expected to be lowered to 68g per kilogram by 2025. By 2023, under EU law, 10% of a building's total parking spaces will need to contain EV chargers. There are already over 100,000 charging spots in Europe and the number is rising rapidly.
This links in with the continent's plan to be fossil fuel free. Again there are different targeted dates country by country. Already some countries are succeeding in having days when their total electricity needs are met by wind, solar and hydro power alone. Wind and solar power will be Europe's largest source of power generation by 2030 according to the IEA. In 2016, according to figures just released by BP, global growth of electrical power generation from renewables (excluding hydro) rose 14.1%. China represented 20.5% of the world total of renewables. Coal production worldwide fell 6.2% over that same timeframe.
Developments have been set in motion from which there is no going back. Angela Merkel and Emmanuel Macron are spearheading this switch in conjunction with China. This is happening as the G20 countries turn their back on the USA's climate policies. China's truly massive "Silk Road" project linking China and Europe is another indicator of this new nexus. China says it will spend over US$1 trillion on this project. Such Government policy is of course lacking in the USA. Several U.S. States are continuing with environmental policies separate from the Federal Government.
Not surprisingly the major auto companies in Europe are leading the charge for EV's. The much-discussed recent announcement by Volvo (OTCMKTS:OTCPK:VOLVY) of manufacturing only electronically driven autos is symptomatic of this. This was an abrupt change of heart by Volvo. 83% of their sales in Europe in 2016 were diesels. Only last year their CEO reckoned EV's were still a long way off having meaningful market shares. Much of the change of heart appears to have come due to the increasingly tough air pollution rules being brought in. Air pollution legislation is something actually being rolled back in the USA. It is another reason why EV adoption in the USA is likely to lag behind Europe and China.
The start of construction by Daimler AG (OTCMKTS:OTCPK:DDAIF) in May of a 500 million euros battery plant is another example of the new commitment of European manufacturers. It is expected that Volkswagen will announce something similar shortly. Volkswagen expects one-third of its autos to be electric by 2025. Audi is set to launch 3 EV's by 2020. Mercedes has said it will launch 10 EV models by 2022. Jaguar is launching its first EV model, the I-Pace in September this year. Other new battery factories are expected to break ground in Sweden, Hungary and Poland shortly.
In contrast the giants of Detroit, Ford (NYSE:F) and General Motors (NYSE:GM) have generally not committed much to EV development. That is why their stock prices remain at the bottom of S&P 500 valuations. Not a single model from Ford or GM is in the top 20 EV models in Europe (subscription required), for instance. Fiat Chrysler (NYSE:FCAU) is not much better placed. Its only serious offering to date is the Chrysler Pacifica plug-in hybrid minivan. Fiat Chrysler's co-operation on testing with Waymo may or may not lead to meaningful developments.
The chart below produced by EV.Volumes.com shows the dominance of European and Asian manufacturers in EV's: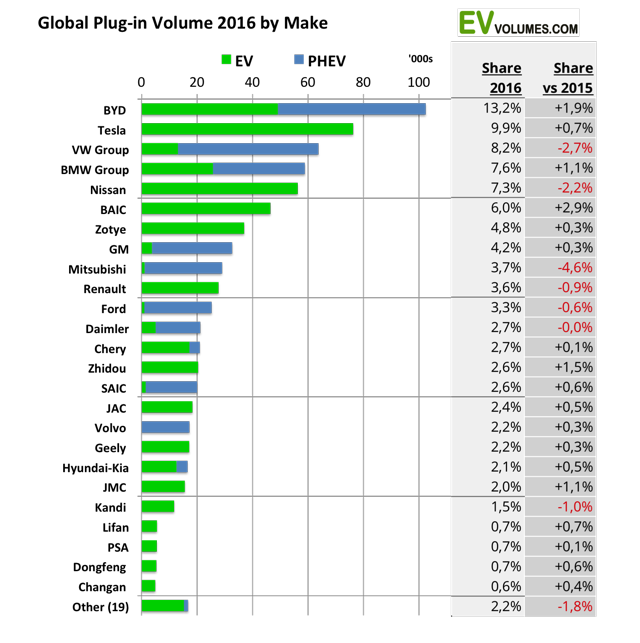 Europe-Tesla.
Despite comments by Tesla bears about a decline in Model S and Model X demand, the sales figures show the opposite. Tesla's sales in Europe as calculated by Carsalesbase.com and shown below: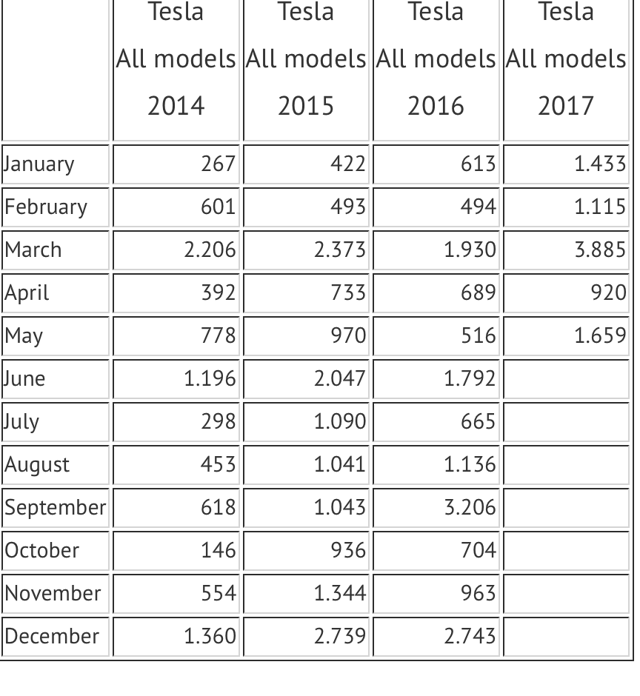 So the fact that sales have more than doubled in Europe every month bar one are hardly a signal of declining demand. Obviously the figure will hugely increase once the Model 3 comes on-stream. It is not now known however what percentage of the new model is headed for Europe. It seems the initial Model 3 vehicles will be for the U.S. market. The European sales figures may not be impacted until mid 2018. For the U.K, where it is thought the reservation numbers are high, there may be the added delay caused by the need for right-hand drive. With no traditional drivetrain constraints to work around, this should not really be a major problem, but time will tell.
The company has announced that it is ramping up its infrastructure in connection with what is expected to be a five-fold production increase. This ramping up involves a doubling of the supercharger network this year. Some have doubted whether they will be able to keep to this pace of change. Additionally the overall service capacity is set to increase three-fold.
Tesla continues to roll out its charging networks illustrated below: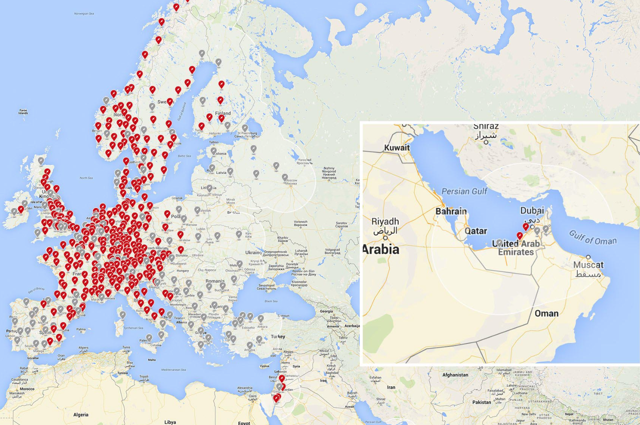 These are concentrated in the more affluent countries of northern and western Europe as might be expected. As the Model 3 comes on-stream, this is likely to expand everywhere across the continent. That would give the company a healthy long-term potential. They will however have to compete against the lower-cost market leaders on the continent.
These are spearheaded by the BMW i3, Renault "Zoe", Mitsubishi Outlander PHEV and Nissan 'Leaf". The "Zoe" has been the top-selling EV in Europe so far this year. As exampled above, the luxury car-makers will be rolling out a host of EV's as well. Tesla bears constantly tell us that Tesla will fail. This will either be because there is no demand for EV's, or because the competition will get too hot for them. They cannot have it both ways. The truth of course is that all the major manufacturers in Europe, China and Japan are going electric in a big way. The unanswered question is only what market share Tesla will be able to get.
In May, Elon Musk stated he expected to announce up to 4 new Gigafactories this year. It is expected that these will be in Europe and Asia. Vaasa in Finland is one location that has been cited by some. The Netherlands, Spain and France are all said to be bidding actively for new plants from Tesla. The company already has a final assembly plant in the Netherlands. It also has Tesla Grohmann Automation in Germany, a company specialised in robotics and automated production.
One can expect more Tesla investment in Europe in the near-future, if capital constraints allow for it.
Conclusion.
Europe is seeing the perfect storm for EV's. Costs of EV's are falling on the back of lower battery prices. The range of EV's is increasing quite quickly. Governments throughout the continent are encouraging EV's with a range of incentives. Governments throughout the continent are bringing in more strict regulations on air pollution.Charging stations are being built at a rapid pace. People are becoming increasingly concerned by climate change and environmental problems.
The major European manufacturers such as Volkswagen, Renault-Nissan, Daimler AG and BMW are committed long-term to EV's. This requires huge capital investment. Once begun this is almost impossible to roll back.
Tesla has first-starter advantage and a strong early position in the USA. That may decline as the USA rolls back environmental policy in the short term. Long-term Europe and Asia should provide a solid bedrock of continuing sales growth for the company.
Disclosure: I am/we are long FCAU TSLA.
I wrote this article myself, and it expresses my own opinions. I am not receiving compensation for it (other than from Seeking Alpha). I have no business relationship with any company whose stock is mentioned in this article.
Editor's Note: This article discusses one or more securities that do not trade on a major U.S. exchange. Please be aware of the risks associated with these stocks.
Europe Can Increasingly Be A Driver For Tesla Sales – Seeking Alpha